The Conference Dinner took place on the evening of May 26, in the company of a Jazz-band, called "Wolfgang and the WereWolves (no joke and not a planned coincidence!). The WWW'94 Awards were handed out at this occasion.

This was the result of a vote via the "Best of WWW" contest set up by Brandon Plewe.

Brandon closed the voting on May 24, and e-mailed me the list of winners. He also had some messages, which I include here:
Brandon Plewe writes
Here are a few observations I have made about the awards. I would appreciate it if you would read them to everyone, if you have time. (RC: and I did!)
There were 5225 total votes.
I appreciate all the assistance I have received in each stage of the process.
I noticed that several of the sites advertised their nomination to garner more votes (although most of the links from nominated sites to the BoWeb pages were done in taste). I had hoped that this award would be something that everyone else bestowed on the sites not a contest of who could rally the most support.
Ballot-stuffing was common, and I tried to control for it. Only in a couple categories did removing extra ballots alter the awards.
Despite my best efforts, the preference of appearance and popularity over substance was evident in some categories. Still, all of the categories had very deserving winners, even if they weren't my personal picks :-)
I can see some changes for next year already -- most importantly, I won't be doing it alone :-)
Classes of winners
Then followed his list of winners. There was a "Hall of Fame" and a set of categories.
Hall of Fame Inductees
Marc Andreessen
Eric Bina
Kevin Hughes
Rob Hartill
Lou Montulli
These five persons received a Chromachron watch, engraved with the WWW logo.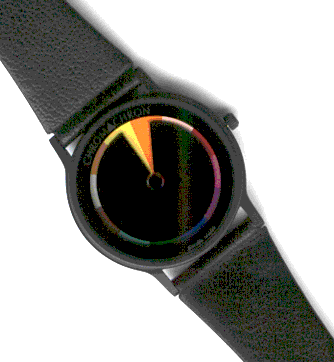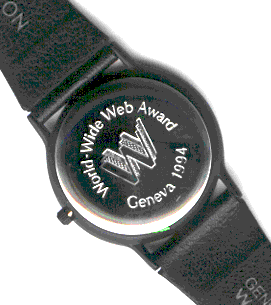 (For those who cannot see the pictures, this dress-watch shows time with only the hour hand. The face is divided into twelve coloured sectors. The hour hand is a black disk, exposing only the width of one sector. Thus, at any hour on the hour, a single colour is visible through this gap; at half past some hour, two colours are visible in equal amounts etc. The image was scanned at 25 minutes before one o'clock)
Categories
There were 12 categories, each with a winner and one or more honourable mentions. All winners get a year's subscription to WIRED magazine. Both NCSA and Xerox won twice, therefore in addition they both get a subscription to the journal "Computer Networks and ISDN systems", that will print the proceedings. The others get in addition a special book issue of this journal which deals with .

Two sites got twice an honourable mention, so they were to get a subscription to WIRED magazine. As one of them was WIRED itself, I decided to give them the book...

Here are the categories and winners:

Best Overall Site
Winner: NCSA

Honourable mention: CERN
                    Global Network Navigator

Best Campus-Wide Information Service
Winner: Globewide Network Academy

Honourable mention: Rensselaer Polytechnic Institute
                    University of Texas-Austin
                    Honolulu Community College
                    University of Maryland-Baltimore County

Most Important Service Concept
Winner: What's New on the WWW (NCSA, see above)

Honourable mention: Global Network Navigator
                    Globewide Network Academy

Best Document Design
Winner: Travels with Samantha (Greenspun, MIT)

Honourable mention: Wired Magazine
                    GNN NetNews
                    Principia Cybernetica Web

Best Educational Site
Winner: Introduction to C++ (Marcus Speh)

Honourable mention: ArtServe
                    Expo
                    Museum of Paleontology
                    Views of the Solar System

Best Entertainment Site
Winner: Sports Information service (Eric Richard, MIT)

Honourable mention: Movie Database
                    MTV
                    Doctor Fun
                    Wired Magazine

Best Use of Interaction
Winner: Xerox Map Server (Steve Putz)

Honourable mention: Geometry Applications Gallery
                    Weather Map requestor

Best Use of Multiple Media
Winner: Le Louvre (Nicola Pioch)

Honourable mention: Expo
                    TNS Technology Demos
                    Usenet Image Gallery

Most Technical Merit
winner: Xerox Map Server (Steve Putz)

Honourable mention: Interactive Genetic Art
                    Dutch Teletext Gateway

Best Commercial Site
winner: O'Reilly and Associates

Honourable mention: Hewlett-Packard
                    Sun Microsystems

Best Navigational Aid
winner: World Wide Web Worm (Oliver McBrian)

Honourable mention: Internet Meta-Index
                    Virtual Tourist
                    Galaxy

Best Professional Service
Winner: OncoLink (Buhle & Goldwein)

Honourable mention: Unified CS Technical Report Index
                    Explorer
                    Virtual Hospital

---
RC 28 May 94